Alternative Resolution: Solving Issues Outside of Court
Yes, it is possible to resolve legal issues outside of Court! Going through the formal court process is time-consuming, expensive, and invasive. Why not resolve things more amicably? Alternative resolution of issues outside of court is faster, cheaper, and more private. Most importantly, solving issues outside of court generally leads to unique solutions to problems, specifically addressing your needs and your preferences.
A to Z Law Erie is committed to helping individuals and families resolve issues peacefully, with dignity and respect. This is why we offer a range of alternative resolution methods to resolve issues outside of Court. We call these methods Peacemaking Processes.
A to Z Law Erie offers multiple Peacemaking Processes that empower you to make decisions and reach agreements, which helps to resolve your legal issues outside of Court, including the Collaborative Process, Mediation, and Unbundled Services.
Collaborative Process
The Collaborative Process is private, cost-effective, and peaceful, driven and guided by your unique needs, interests, and goals.
The Collaborative Process begins with the parties agreeing to solve their issues without going to court. The parties sign an agreement to stay out of court, and to work toward resolving the issues with the help of a team of collaborative professionals who all work together. The parties agree on who to include in the collaborative team, based upon their unique needs and circumstances. The purpose of having a team of collaborative professionals working together is to consolidate efforts to reach the best resolution as quickly as reasonably possible. This interdisciplinary, holistic approach helps to save time and expenses.
Typically, each party hires their own collaborative attorney. Unlike litigation (where the attorneys work against each other), the Collaborative Process requires the attorneys to work together and to share information on behalf of both parties voluntarily. The parties decide and agree upon any other appropriate neutral professionals to include in the collaborative team. The additional collaborative professionals are hired as "neutrals," which means that they do not work for either party, but instead, work on behalf of both of the parties. This avoids duplication of effort, time and expenses. The types of neutral professionals that may be helpful include: Mediator; Mental Health Professional; Financial Professional; Child Specialist; Special Needs Expert; Other Specialist/Expert in any other area relevant to the parties and the issues. Just like the parties sign an agreement, the collaborative attorneys and any other professionals who join the collaborative team also sign an agreement, which prevents any of these professionals from being involved in subsequent litigation between the parties.
By relying upon professionals to facilitate transparent information sharing and healthy communication, the parties are able to actively participate in interest-based negotiation. Negotiation is all about reaching an agreement that will solve a problem. Interest-based negotiation is a specific method that identifies the parties' interests underlying their positions. This allows the parties to talk through potential solutions that actually address what each party needs and wants. In turn, this encourages a holistic conflict-resolution process that helps everyone involved to heal and move forward in a healthier way.
A to Z Law Erie believes in the Collaborative Process. Both A and Z are trained and experienced Collaborative Professionals. The Collaborative Process helps to maintain dignity and respect among everyone involved, which leads to healthier and more functional relationships, whether in the context of family or business.
Mediation
Mediation is private, cost-effective, and peaceful, designed and intended to help you find mutually agreeable solutions to your issues.
Mediation is a process used to reach agreement outside of Court through negotiation. The parties agree to hire a Mediator, who works as a neutral professional to facilitate negotiation, with the goal of helping the parties to reach agreement. Negotiation involves clear, transparent communication about both parties' needs, interests and goals. As a neutral facilitator, a Mediator helps the parties to communicate effectively and respectfully with each other. By focusing on identifying each person's interests, and seeking to balance what each person needs and wants, Mediation helps resolve conflicts with dignity and respect. With the help of a Mediator, you frame your own solutions. Mediation is faster and therefore more cost-effective than the formal court process.
A Mediator is a third-party neutral, which means that they do not represent the interests of either party. Mediators do not provide legal advice to the parties in their role as a Mediator. A Mediator who is also an attorney can provide information to the parties about the law, but they do not provide legal advice to either party. Each party can decide whether or not they wish to hire their own attorney in order to seek individual legal advice. There are a range of options for exactly how a Mediator can help people reach agreement.
A to Z Law Erie offers a full range of mediation services. Both A and Z are trained and skillful mediators, prepared to help you reach agreement and solve your issues with dignity and respect. Mediation helps to maintain dignity and respect and eliminates the stress of going to Court, leading to healthier resolutions to problems with less conflict.
Unbundled Services
A to Z Law Erie is prepared to provide you with individualized solutions based upon your legal issues and your unique circumstances. This is why we offer Unbundled Services, which refers to the idea of completing finite, individual tasks, as well as offering more comprehensive assistance with complex problems and processes. Generally speaking, Unbundled Services refers to having an attorney prepare appropriate legal documents based upon an agreement that you've already made. Unbundled Services can also refer to either A or Z working in a specific role and within a limited scope. We can help you to identify all of the options available and find the best path forward toward achieving your goals.
We are professional problem-solvers. Let us help you resolve your issues by finding an approach that will meet your needs.

Litigation: the Formal Court Process
When you litigate, you ask the Court to reach a decision on your behalf, rather than making your own decision. Navigating the Court system isn't easy. Whether you've already found yourself in the midst of litigation, or you're considering initiating the process, we are here to help you through the formal Court process.
Litigation
Litigation is an adversarial process where each party hires their own attorney to represent their individual interests. Each side builds their own case by collecting their own information. Each side presents their evidence in Court, asking a Judge to reach a decision based upon the evidence and arguments. Put simply, the parties actively work against each other, arguing their own position against the other party. Both sides intend to "win," and the general premise of course is that at least one side will "lose."
At a basic level, the cost of litigation is immediately tied to the amount of time spent on the matter. The timeline of litigation is controlled by the Court system, with the potential for delay based upon additional filings from each side that can further complicate the process. The level of conflict between the parties directly impacts the amount of time spent, and by extension, the cost. The formal Court process is time-consuming and complex in general, and more so in the face of conflict between the parties. Litigation generally leads to additional conflict on top of the conflict underlying the issues. Even if the level of conflict is managed reasonably, each attorney still completes their own work on behalf of the party that they represent, which means that the work is duplicated. The reality is that this multiplies the amount of money that the parties spend in litigation against each other.
By resorting to litigation, you surrender control over decision-making, the process itself, and the timeline thereof. In general, A to Z Law Erie encourages Peacemaking Processes as alternatives to litigation. In some cases, you are not afforded the luxury of choice in this matter. A to Z Law Erie recognizes this fact, and we are prepared to zealously represent you in litigation. Nonetheless, we maintain our commitment to approaching each case with dignity and respect.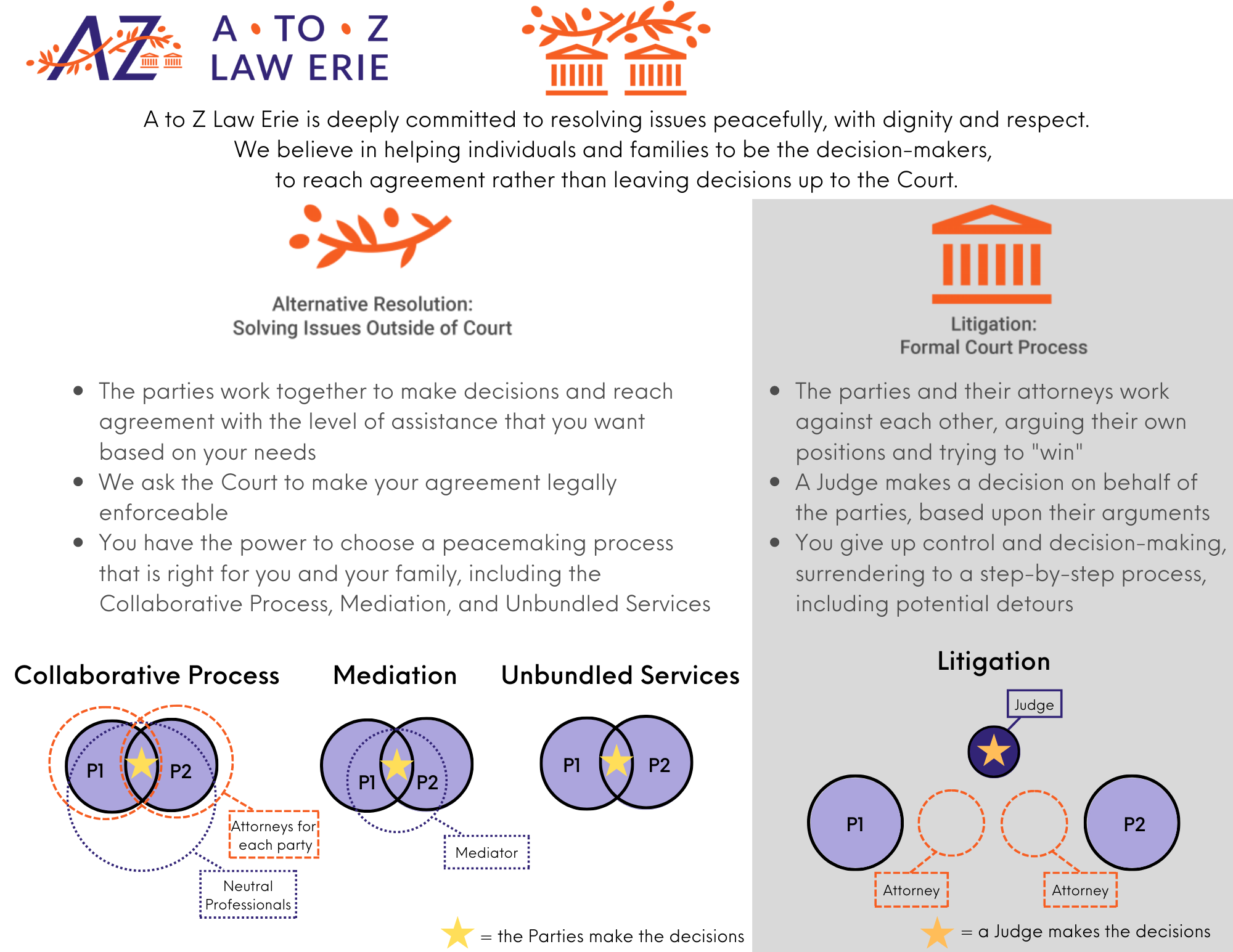 Great attorney! Zanita covered all of the bases, was unbiased and coached us through it all. We got exactly what we came for.